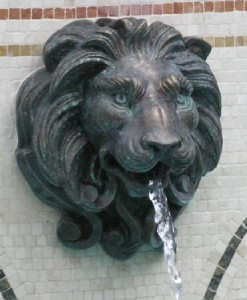 I went swimming at the neighborhood Y after work tonight. It's a humble, budget-challenged place. The ceilings leak when it rains and the lockers are rusty; the "indoor track" is so small you have to run around it 18 times to run a mile. But the staff is kind and I've been going there for so long that I can't imagine swimming anywhere else.
Tonight I was the only person in the small, 4-lane pool. Over the years I've heard people who have gone there to swim complain about the short lane-lengths (a wet version of the indoor track) and the old, tired aquamarine blue and black tiles. Not me. This pool is an old dependable friend, always there for me when I've needed to move my limbs through the too-cold water to work out my worries and find my rhythm to happiness.
Mounted on the wall at the shallow end of the pool is a bronze lion head out of whose mouth flows fresh clean water. How cool is that? Upon entering and leaving the pool I bow  to him, the old guardian, placed there in the 1920s, emblem of perseverance and courage.
Comments Off

on Swimming to Happiness